This year, we move to Battle in East Sussex for our visit – the site of a famous battle and the date everyone remembers – 1066. The town grew up around the Abbey of St Martin which was built by William the Conqueror after the battle. It is said that William vowed that should he win the battle he would build such an abbey. The abbey was built between 1070 and 1094, and the high altar is believed to have been placed on the spot where Harold fell. Today the Abbey ruins and the battlefield are cared for by English Heritage and are well worth a visit. The imposing Abbey gatehouse built circa 1338 can be seen as you look down the length of the High Street.
Battle has some notable Georgian buildings along its High Street. The cottages and houses near the Abbey date from around 1700. The parish church of St Mary was built in Norman times and for the most part is 12th century in construction. It offers the visitor rare 14th century wall paintings and a Norman font amongst other things. At the Northern end of the High Street can be found the Almonry which was built in 1090 and now houses the Town Council and the Battle Museum of Local History.
We meet at the Battle Museum of Local History. The Museum has a collection covering 125 million years of history in Battle and the surrounding area. The fascinating displays include dinosaur footprints, artefacts from the Roman Bathhouse at Beauport Park, a Saxon battle-axe believed to be a unique relic of the famous Battle of Hastings (featured on Time Team), theWorld's oldest effigy of Guy Fawkes and the story of the Battle Gunpowder industry, as well as cases on the World Wars of the 20th Century. Each year there is new special exhibition.
There is a charge of £2.00 for visitors to the Museum.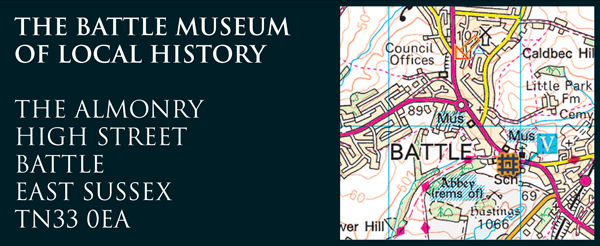 I am hoping to find a local person to lead a guided tour of the town and I will send you more details if you confirm that you will be joining us on Saturday 5th September. This leaves members ample time for a leisurely lunch and time to visit the church and the Abbey. The Abbey is administered by English Heritage and there is an admission charge of £8.30.
Please confirm that you will be joining us at Battle on Saturday 5th September, by calling Dick on 01629 640670 or emailing info@sussexbooks.co.uk