So many books are written about Sussex that it's difficult to keep track of them all.
The Sussex Book Club keeps you informed with new books on our county, reminders of a few you may have missed, special offers, events in Sussex and visits for members.
It retains the original distinct features:
Membership is completely free

You'll receive newsletters in Spring and at Christmas with details of new and recent titles available through the club

You won't be sent books you haven't ordered

Books are sent to you free of post & packing charges

Our cost-conscious computer will eventually take your name from our mailing list if you never order, but there's no irksome obligation to buy


---
LAND OF HOPE & STORY

A celebration of Rural Britain's history, myth and legend
Paperback 198mm x 129mm
82 pages ~ £7.99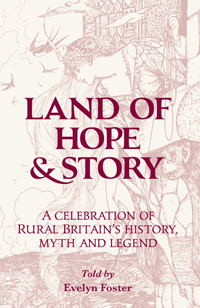 LAND OF HOPE AND STORY: by Evelyn Foster, published by Country Books, is a celebration of British landscape, history and legend. Many of the tales are set in National Trust owned areas and proceeds from the book will raise money for the National Trust.
LAND OF HOPE AND STORY aims to raise spirits in these challenging times and to inspire even more people to visit National Trust places. It is full of fun, hope @ positive patriotism, as well as a great love of the great British countryside.
The oldest rural fairytales were, in fact, written for adults not children. Goldilocks was originally a grey-haired woman with attitude, not a cute young blonde, and in the Yorkshire version, a fox! The book is a collection of short fun facts and fun short stories about beautiful Britain and its heritage.
Evelyn Foster works as actress, author and storyteller; focusing on folklore and fairytales, has spoken on fairytales at the Royal Festival Hall and has appeared in fantasy art as a dryad.
Illustrations and Decorations by HJ Ford, Andrew Lang's Fairy books printed between 1889 and 1913.
To order a copy CLICK HERE